Price Magnet are just one indicator, but require a section just for themselves. To the trader that wants to know exactly where price is headed, the Price Magnets are the GPS to guide him.
What causes a level to become "magnetized"?
Technical traders react to areas on the chart based on various analytical methods employed. They utilize moving averages, breakouts, chart patterns, specific prices, value areas and other methods. When these areas converge they cause market participants to commit capital. Often
price action becomes volatile and can pull away from an area like this very quickly. When this happens there is often an overwhelming amount of "unfinished business", or unrealized profits and losses which have originated at such levels. Naturally price is attracted to these levels of liquidity when there is no other larger time­frame induced direction.
What are price magnets?
The price magnet system was devised to identify areas of unfinished business. It is depicted as a horizontal ray drawn on the chart. Once price pierces the level, the horizontal ray is terminated indicating the clearing out of that level.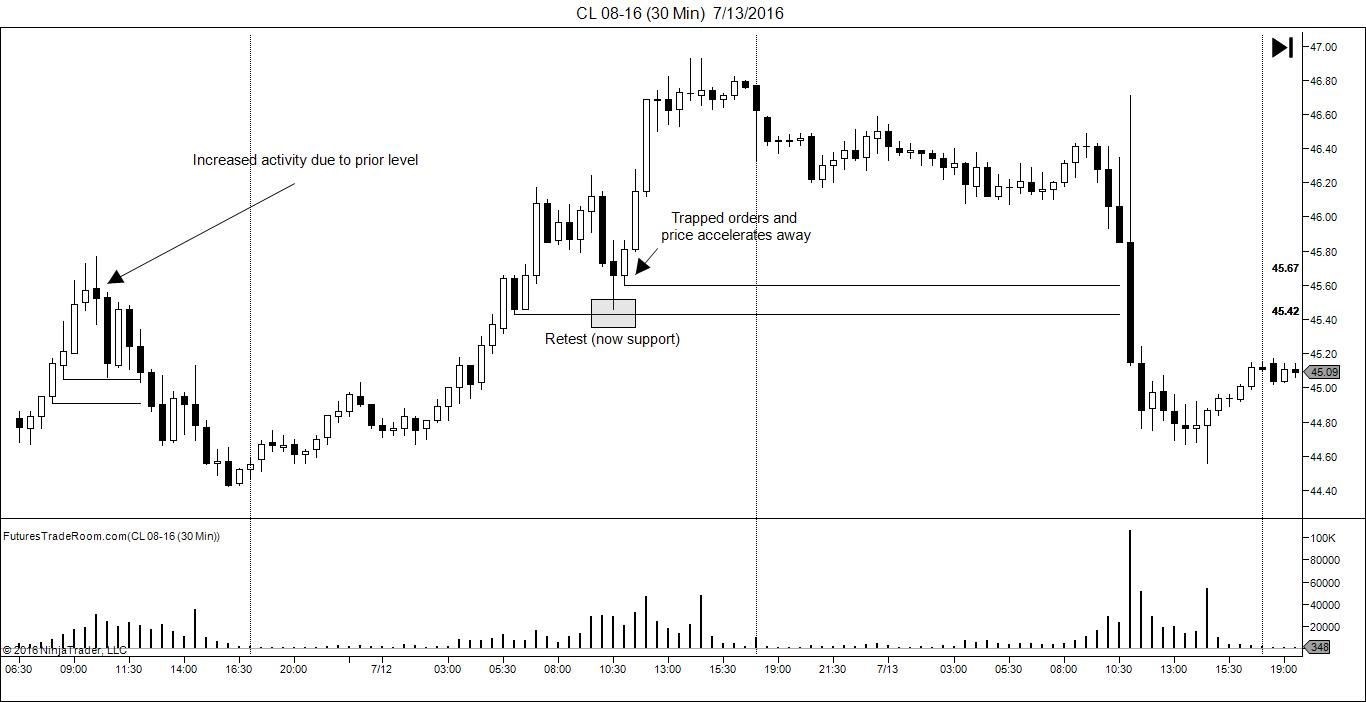 1.0 In the above chart we identify 2 price magnet levels which are shown by the horizontal rays. Price has reacted to the prior peak in price. Traders may be anticipating a double top rejection or a breakout to the upside. This creates a cluster of orders around this level. As you can see price originally breaks out, pulls back to attempt to tag the first price magnet, finds support and takes off higher leaving behind 2 prints. The next day the trend stalls out and price takes out the two price magnet levels.
Market Development
The market generally does two things: develops and distributes. Participants will trade an area (develop) until it is fully developed. Once the range has been developed and all price levels have been tested, it will seek new value (distribute). As price developes and distributes, the market goes up, down, or sideways. In addition, there are typical ranges for which a market will normally develop or distribute. The observant Trader will do good to know when the maximum distribution or development ranges have occurred for the market being traded. A tool which can help is the Daily ATR, and the Volume Profile Indicator. Both will show when price has reached the maximum ranges for the day (distribution), or will show when price is unusually sideways(developing).
When the market is developing we want to stay out. The market has found a value area, or point of control for which to trade around. Think of it as a black hole, price cannot escape unless a force comes into the market strong enough to push it out. The market will rotate in this sideways range for a while.
Once price has left the development area it will seek new value and is clear to make directional moves. This is where we pull out our price magnets.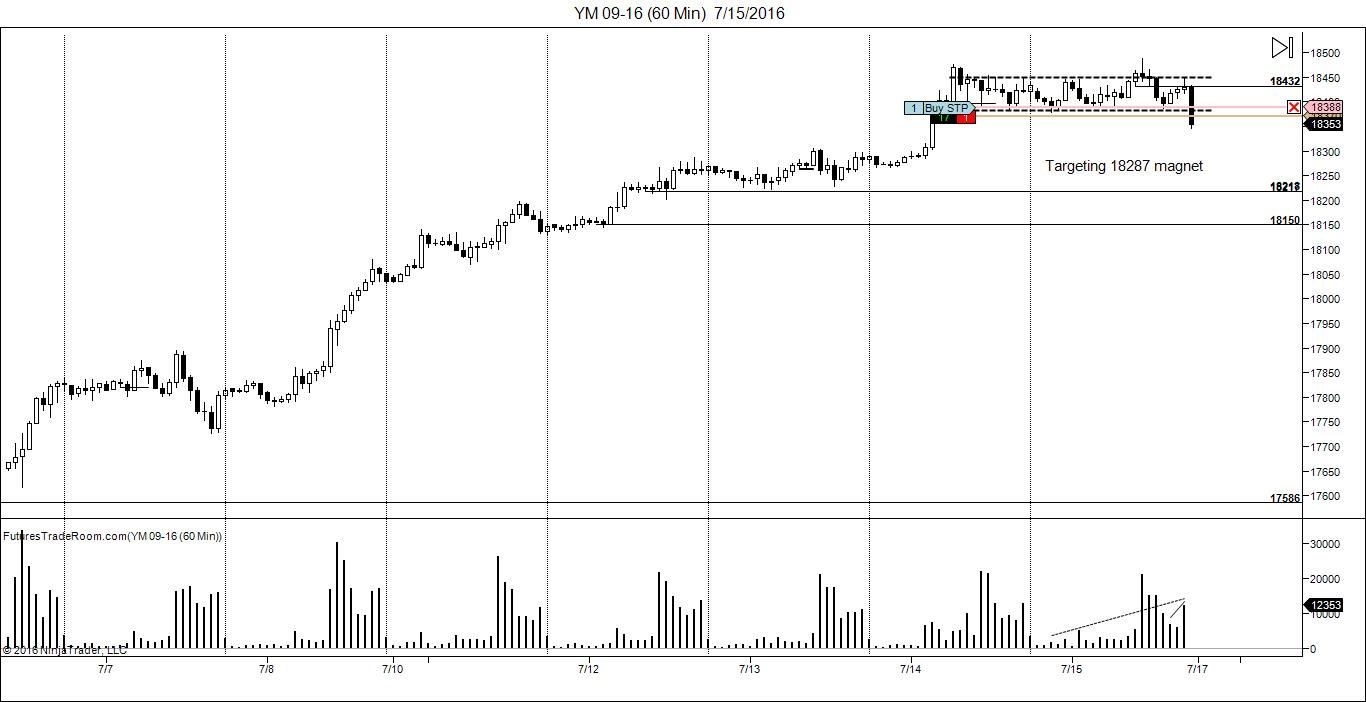 1.1 Price develops in a sideways channel prior to breaking out to the downside to target price magnets below.
How to trade the price magnets
To best utilize the indicator we wait for price to first become overextended in one direction. It may have quickly moved up into a new area, or perhaps slows drifted and then consolidated in this new area. We are not looking at oscillators or relative strength to identify this overextension. We are looking for range extensions nearing the typical daily bars range,or the outer limits of the volume/market profile. After price action begins to show signs of weakness we look for a change in trend. After this change in trend is confirmed by a probe outside the current range we look to enter in the direction of the price magnet.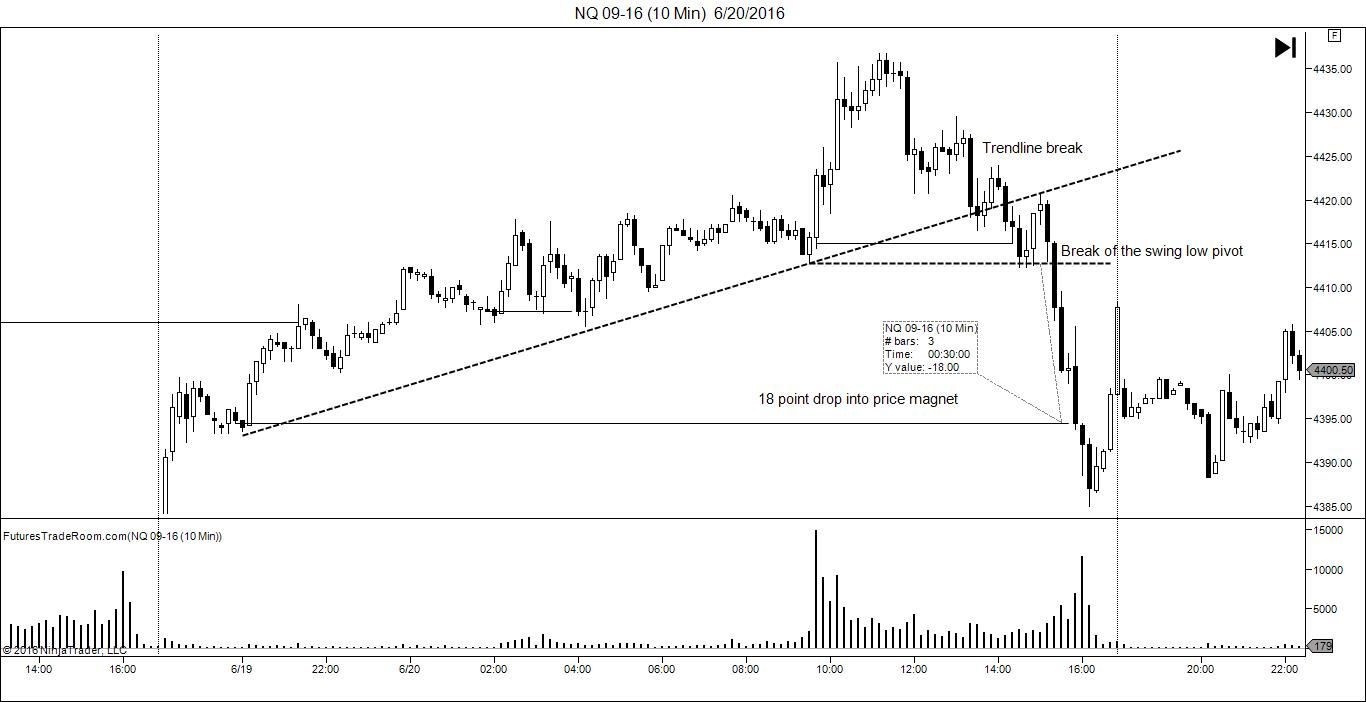 1.2 Once the uptrend is broken price develops below and price breaks the lows of the swing pivot, the downtrend is confirmed and we trade into the lower price magnet for a gain of 18 points.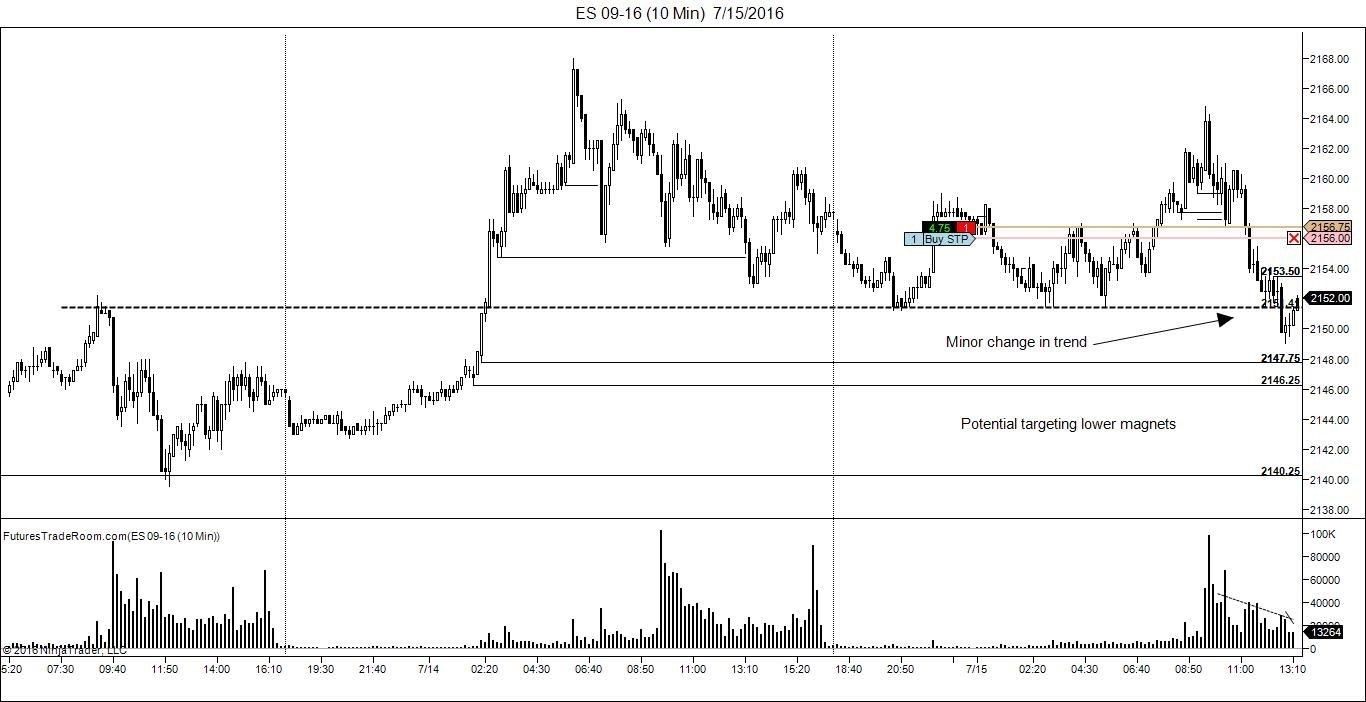 1.3 A sell limit order is left below the consolidation area that appears to be overextended. Price breaks the low, triggers the sell order and targets the price magnets lower.
Buying/Selling with limit orders from the price magnets
It is possible to utilize the price magnets as buying zones in the case of an overall uptrend.
Often times price will wick down into the lower price magnet to the tick before continuing higher. A limit order to buy with a built in order­management system may be left a tick above the bullish magnet for it to be triggered.
Trends
In the case of a strong uptrend, price often partially retraces towards the price magnet but will fall short and continue in the direction of the trend. This is a strong sign of support and such levels can be used to hide stops, magnets on the other side of price should then be targeted.

1.4 Price magnets print in a uptrend, price retraces and consolidates along the upper magnet before breakout out higher.
Trailing behind magnets in a strong trend
In a strong uptrend price magnet tend to act as accumulation levels. Trailing behind the magnets is a viable strategy for both locking in profits while allowing enough room for the trend to continue.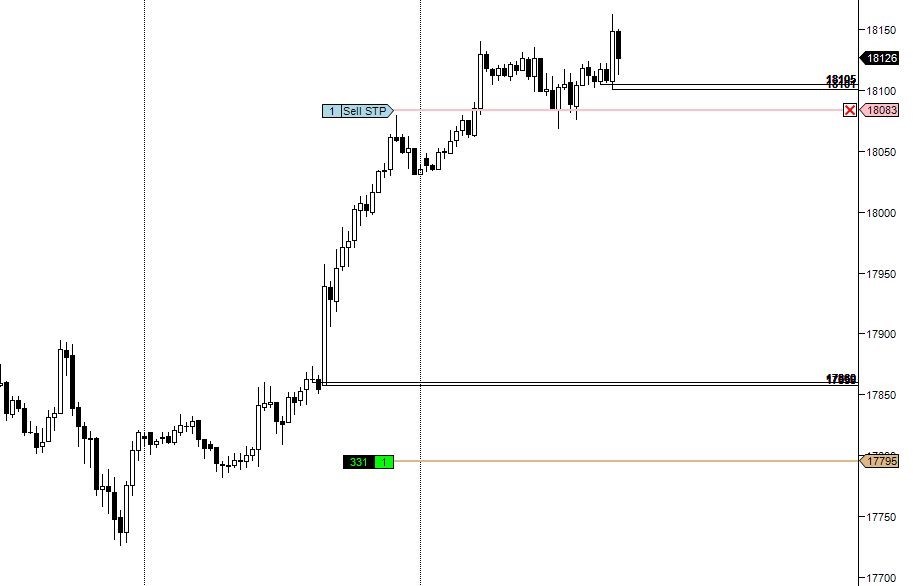 1.5 Trailing behind price magnets. (See 1.6 for completed trade)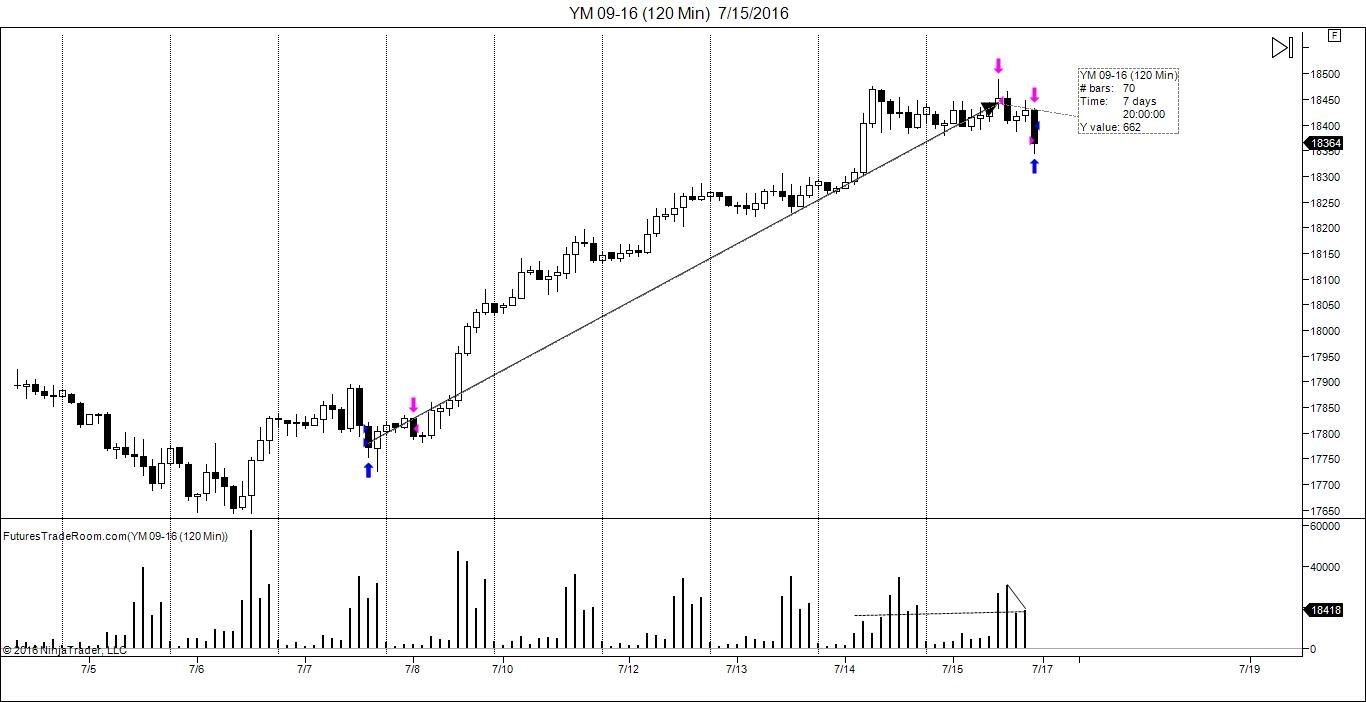 1.6 This chart is the completed 1.5 chart, Price Magnets used as a trailing stop aid during a daily breakout trade lasting 7 days, resulting in 662 ticks.
More on Price Magnets
Price Magnets work because they automatically show us where traders are in trouble in their positions. We know not only that there is an imbalance in the Bid x Ask, but there is above average intention in moving price out of the area by both sides. By utilizing a combination of complex methods derived from years of volume profile and order­flow trading, we were able to combine the technology to create the Price Magnet trading system.
Time Frames
The Price Magnets perform on time­frames between 10­60 minutes. This is because the system reads multiple time frames for additional confirmation and only prints the most relevant prints.Occasionally levels may be found on Daily charts as well, these levels are also tradeable under the same set of rules.
Practice makes perfect
The best practice a trader can make is to manually backtest by going back a few months and watching how new price magnet prints are made, then making predictions on where and when the best time is to get in. Spend the time to master this, don't be like the majority of traders that dabble, commit to excellence and dedicate time every night to learning the patterns. You will start to notice the difference between price continuing higher/lower or reverting to take out a price magnet.
I also recommend watching the charts on market replay so that you can fast forward the market at a constant rate of speed. Find a speed that you are comfortable with. The idea is that you will learn to recognize these patterns at a much faster rate which will translate into real time pattern recognition during live trading. You will instantly recognize a setup because it will pop out from the chart. If everything looks good and you recognize a setup primed for reversion back to the price magnet then take the trade in sim.
Don't get discouraged if not every trade is a winner. Keep your losses small, but not so small that you are taken out by the markets regular movements. Allow some wiggle room so that you don't get stopped out of what should of been a good trade.
Timing is very important when it comes to using a relatively small stop. Ideally you want to hold your position until price passes through the price magnets. This could take a few hours. If you have gotten good at reading direction and timing from the backtesting this is your edge. Combine it with proper money management and give time for the numbers to work themselves out.
Don't be discouraged if you lose $500 in one day because your stop was too tight, or the trades did not work out, or if you got out too early. If you go back and analyze your trades and continue applying the method over time you should start seeing positive results. In my experience it typically takes 1­2 weeks to get enough trades in to make a measurable difference so don't put too much importance on any one single trade.
Keep in mind that market conditions can take a few days to change and that in certain conditions mean you won't perform as well as others. Keep your losses small, take only the setups you recognize and focus on executing your setups the same way each time to perfect your strategy.
In time the larger winners will begin making back the losses in just a few trades and if you catch a winning streak or a large trend you will be quickly elevated to an all time high in your PnL.
During your practice sim experience you should be trading similar to how you would when trading live. Be sure to trade the proper amount of contracts as well. For smaller accounts explore mini contracts which may trade a low as $1 per tick and may be more suitable for smaller account sizes. Being able to sit through a drawdown is important in any trading system. Know what drawdown level you are comfortable with and adjust as needed.
After you have traded the system every day for a month you should have enough trades to analyze for useful data.
If your hit rate is under 50% then your winners should be much larger than your losers.If your hit rate is over 50% then your winners can be closer in size to your losers.
Be sure to calculate commissions and fees. Keep track of your records in a separate folder,I recommend doing for 3 months so you have enough data to analyze for clues. I will be happy to review your practice results each month.
Practice is important because you need to feel the trade. You must feel comfortable putting on a potential losing trade that couldvery well turn into a winner. You must get an experiential first hand experience of the strategy you are executing for a substantial period of time so you have the confidence to trade it live when you are ready.
It's those that have belief in what they are doing that succeed. The others give up as soon as things start to look like a challenge. Do your backtesting and execute sim trades in forward testing for 3 months. Keep notes and records so you can tweak as you go along.
Samples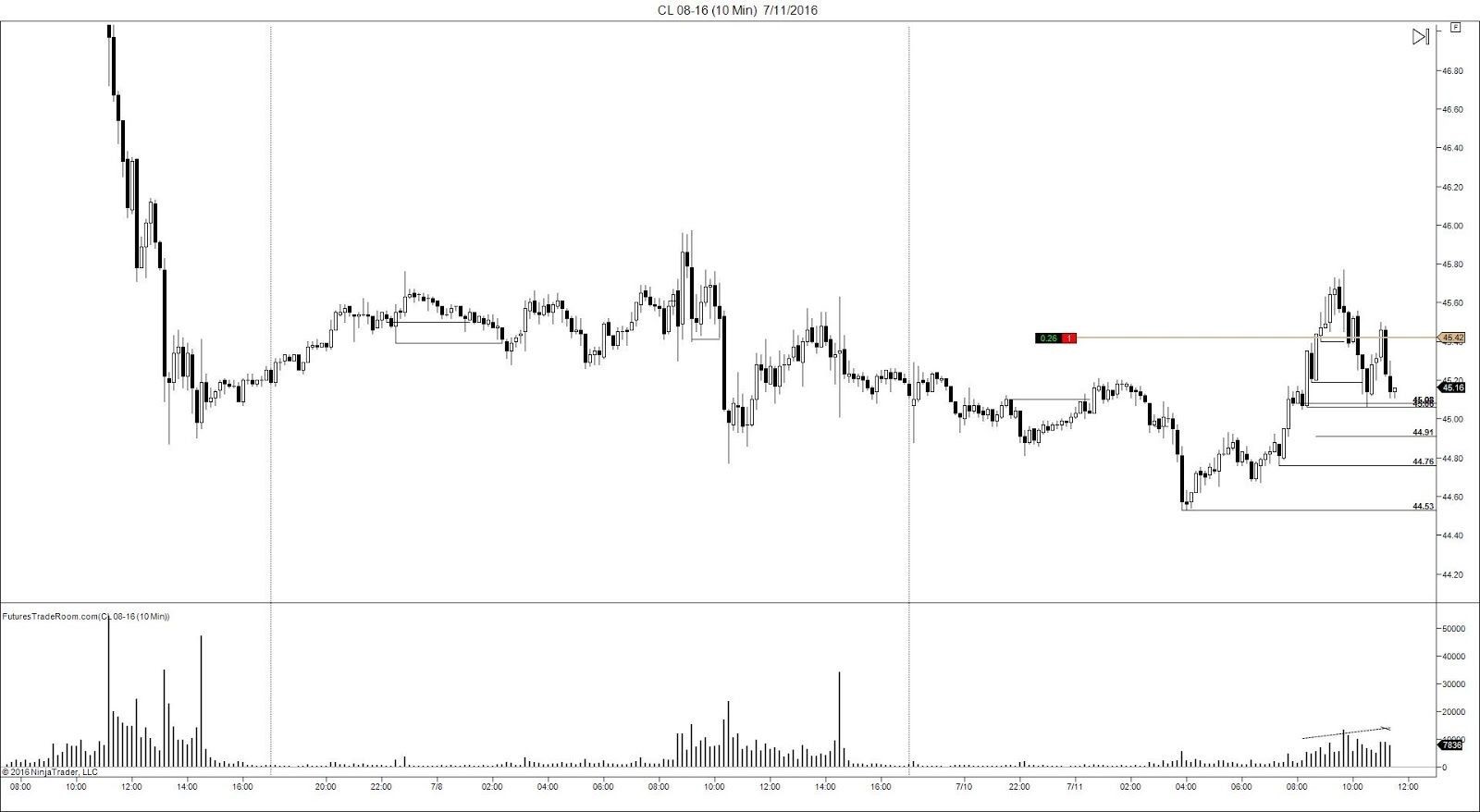 1.7 Selling Crude Oil and using magnets as main direction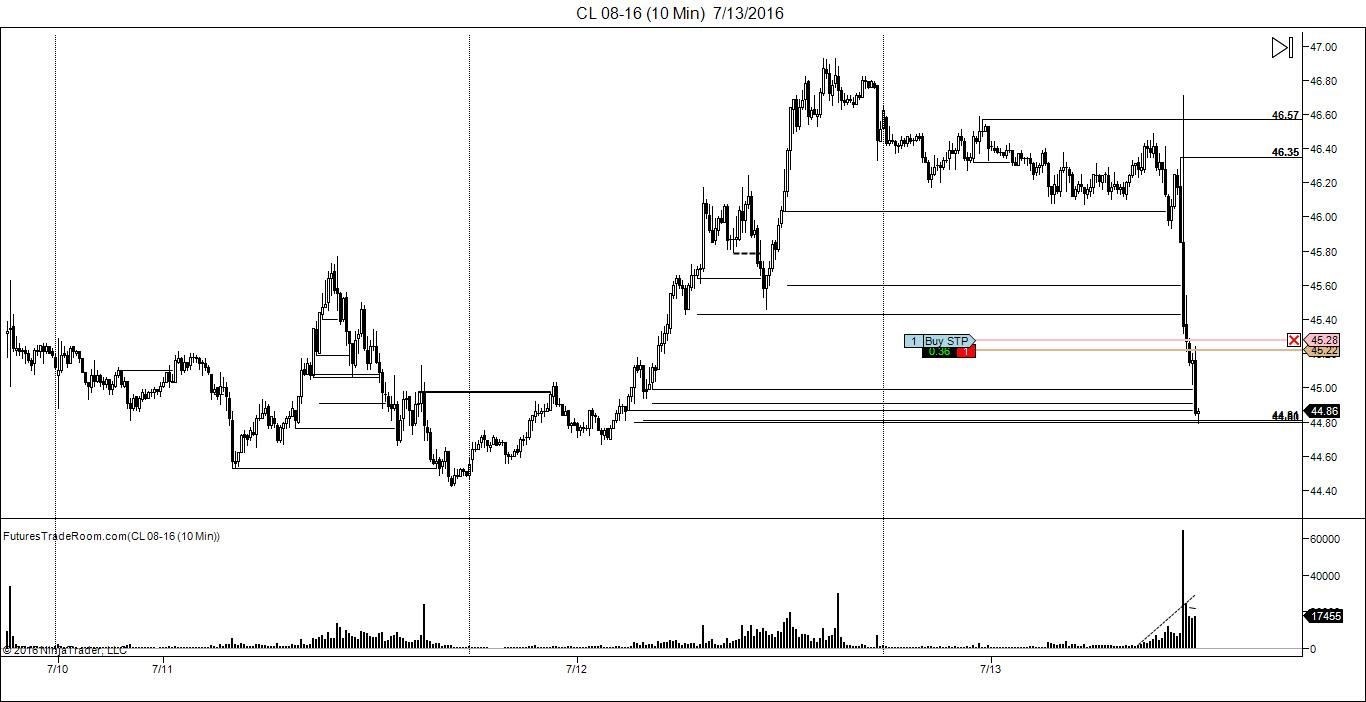 1.8 Crude Oil clearing out magnets very decisively.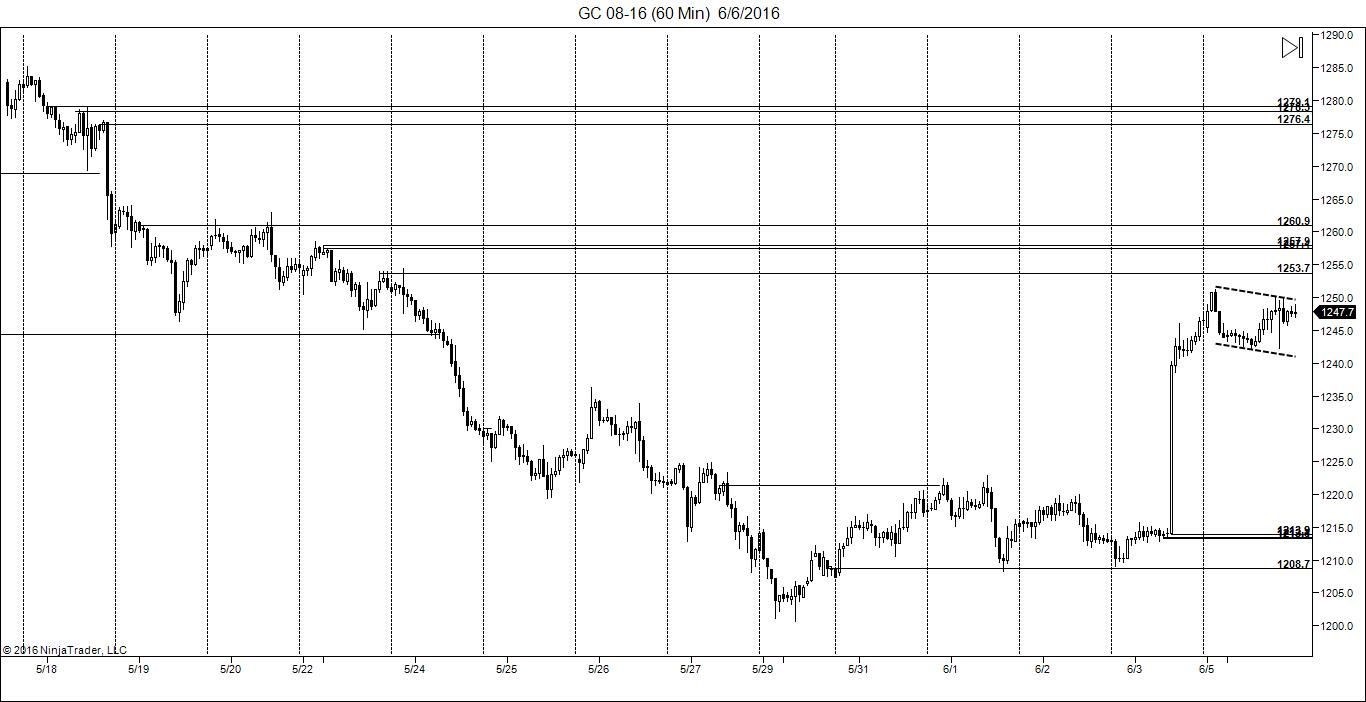 1.9 Gold forming a bull flag with price magnets above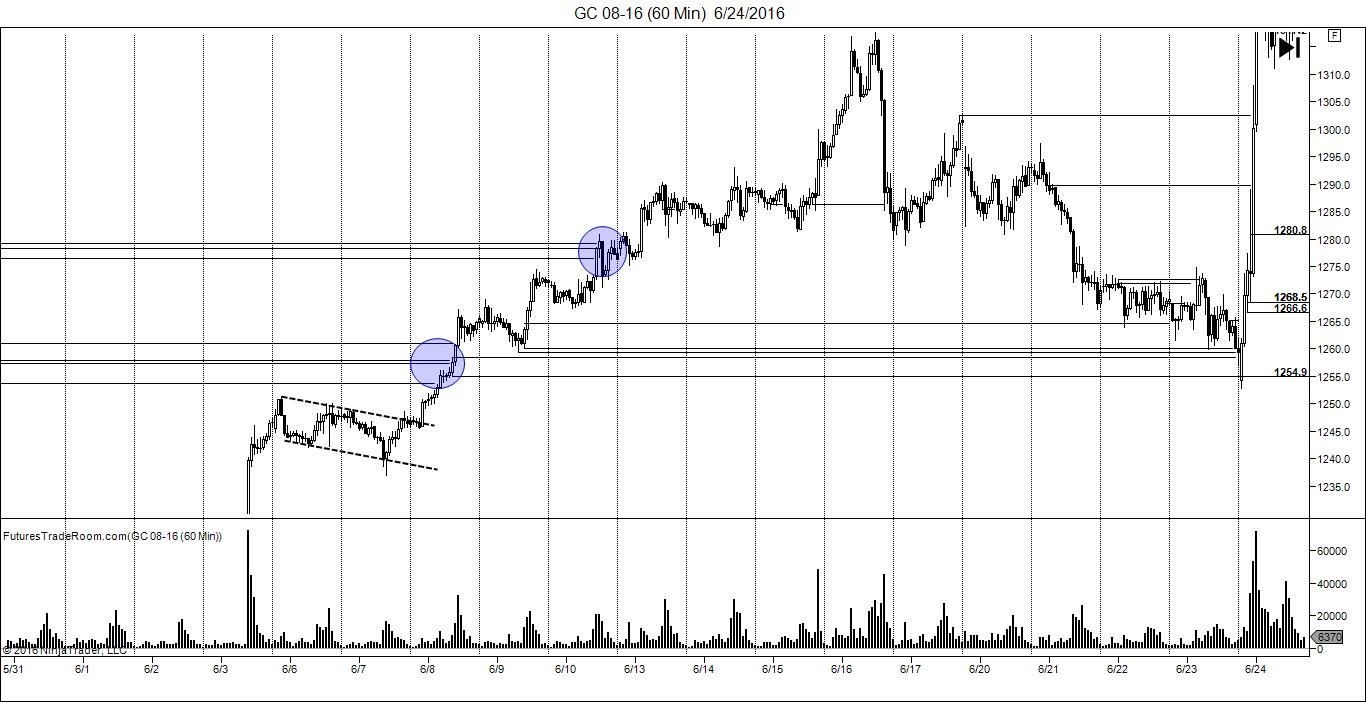 2.1 Gold completing the bull flag formation, taking out targeted price magnets and retracing to pierce the newest magnets before continuing immediately higher.
Trading price magnets with the volume profile
The volume profile is an indicator that plots volume traded at price. From an auction theory standpoint we can utilize the volume profile to show us where price is likely to spend more or less time trading in the future. We can also utilize the profiles built in standard deviation levels to identify the value area highs and value area lows of the trading range.
To briefly expound on profile trading I will highlight the most important aspects involved in profile trading. Additional content on profile strategy may be found in the FTR Trading Course.
The volume profile should be looked at as a bell curve. A bell curve fully develops into 6 sigmas but is separated from 1, 2, 3 and 6 standard deviations.
6 std dev = 99.9999998%
3std dev = 99.7% 2 std dev = 95% 1 std dev = 68%
The standard deviations (sigmas) we are interested in are between 1 and 3 sigma. 1 sigma holds the bulk of the trading data. This is where the institutions accumulate and distribute the majority of contracts. Price action is typically choppy and mean reverting. 2 sigmas hold the outliers that attempt to breakout but typically fail to spend much time at such levels. The 3 sigmas are typically new highs/lows that have been made and the volume profile typically does not distinguish between 99.7 and 99.9999998% so we ignore the 6th sigma.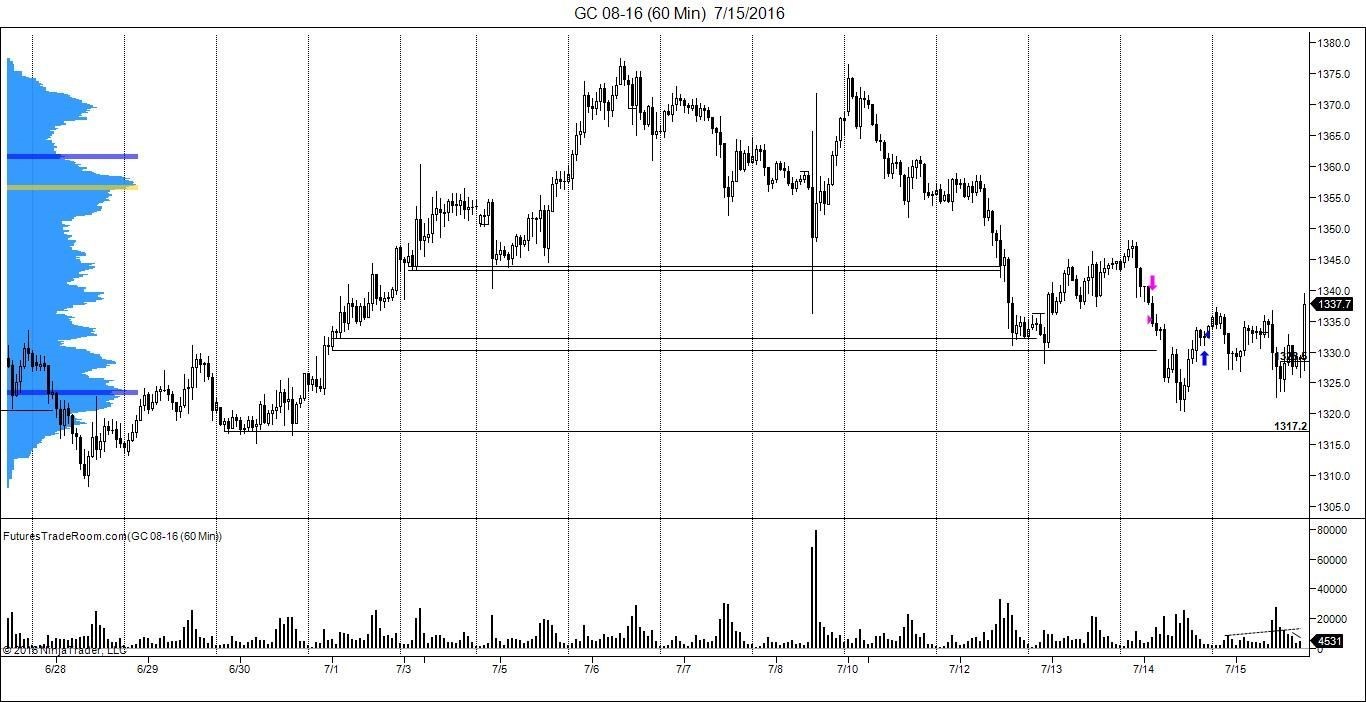 2.2 Gold chart with a 1 sigma profile. Blue linesindicate value area high and value area low. The Gold line shows the Point of Control (POC) which contains the most volume traded. This current profile represents all viewable on screen chart data.
In chart 2.2 the lowest price magnet has not been pierced. The volume profile indicates that the lower magnet is outside the 1 sigma trading range. This means that it has a 16% chance of being pierced during the development of that profile. You can see how price came down into the area the previous day and was swiftly rejected. The current trading day also shows a higher low being formed. However, the overall trend going back about 5 days shows that it is down. This means that we will be looking to take trades into the lower price magnet as soon as price gives a confirmation that the downtrend is resuming. We are looking for price to get rejected somewhere higher at which point short trades into the magnet will be initiated. This swing pattern will be covered in the next section.
Swing Failure Patterns
We are looking to keep the rules for entering positions in the direction of the price magnet as simple as possible. Therefore I will be discussing the most effective way to trade a trend. The rules are objective and two traders should be able to produce the same results without checking each other's work.
My automated trend trading systems are designed to capture trends when they exist. It often takes small losses as the price it pays to be involved in the larger trends. We don't want to miss any setups that meet our criteria because that trade could make our week, month or even year.
When managing a trade inside an existing trend we don't want to exit unless we have a reason. Often times this can result in giving away a large part of the trades open profit. At the same time, allowing the trade enough wiggle room means you will be involved in the mega trend that persist and build accounts to new equity highs.
We will be using this same method for entering and exiting trades with the price magnet system.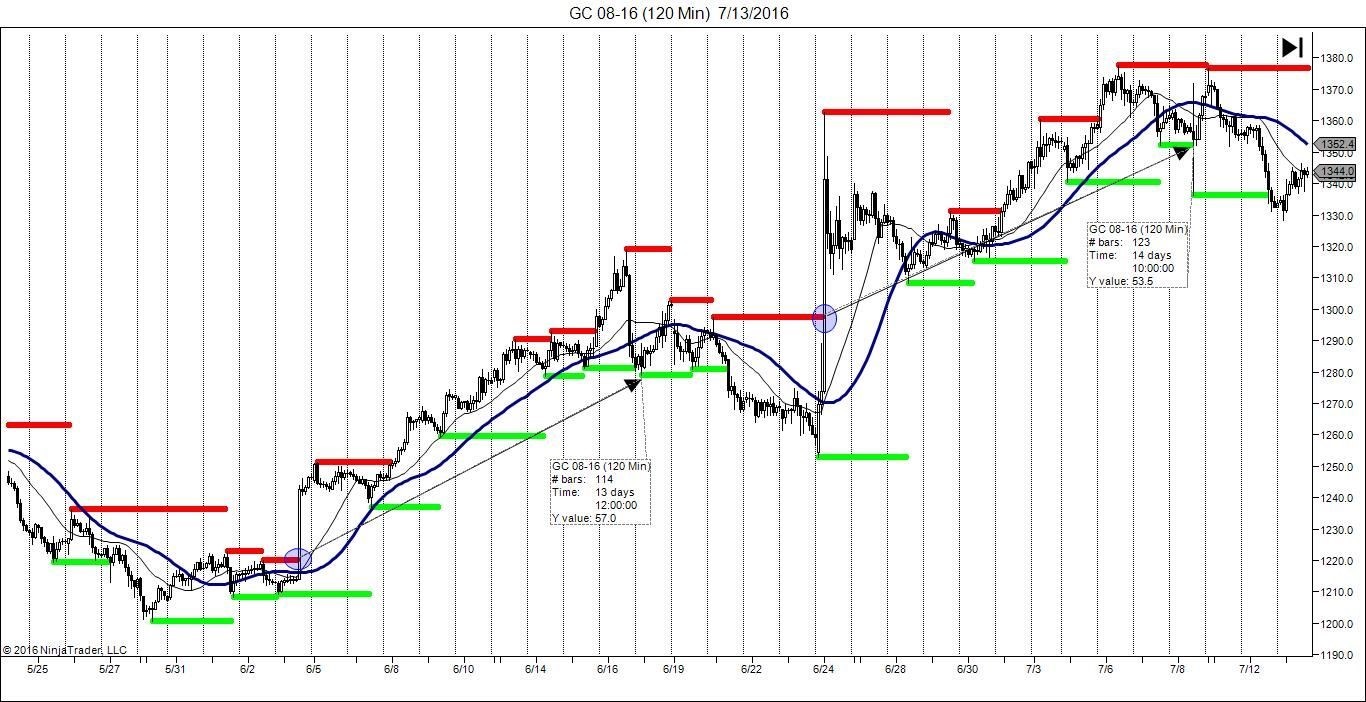 2.3 A simple moving average swing break system used to show trailing rules.
In 2.3 we overlay a fast and slow moving average. IF the fast is above the slow, and price
crosses above the most recent swing high within 5 bars, THEN go long. Entries are shown by the blue circles, exits shows by the arrows.
If we trail stop losses below the swing lows (green lines) then we can see how it allows price enough room to continue higher day after day even though it may give away some open profits in the last day. It gets us out of the trade prior to a potential correction in the uptrend. In the next chart you will see the price magnets overlayed.
When the trade is exited it means the current trend is failing. See how price immediately clears out the price magnets before continuing higher?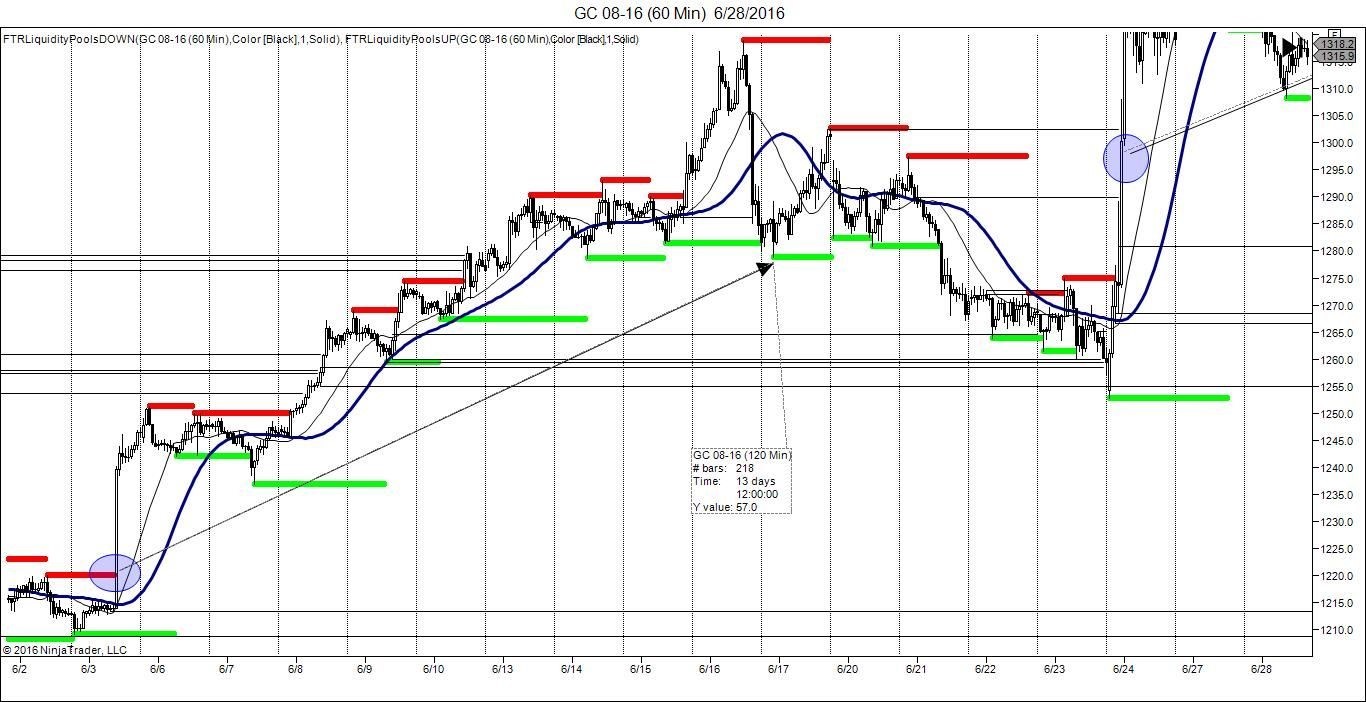 2.4 Price magnets overlaid on chart. Price targets magnets as soon as the current trend has ended.
Also applicable to Stocks and Forex
The same swing break/trend break setup function applies to both Stocks and Forex as well.Can you identify the points at which the current trend was first overextended before being breached? Could you have taken advantage of trading the setup into the price magnet with a relatively small stop?
Forex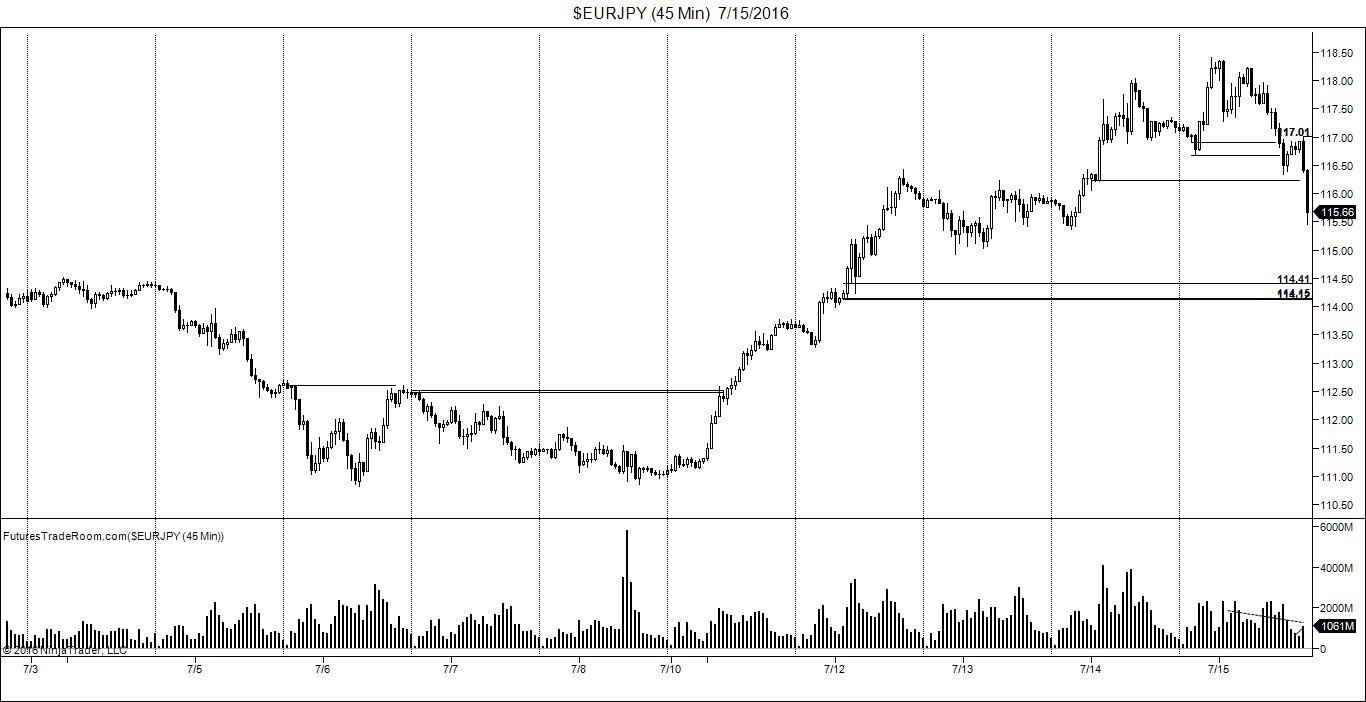 Stocks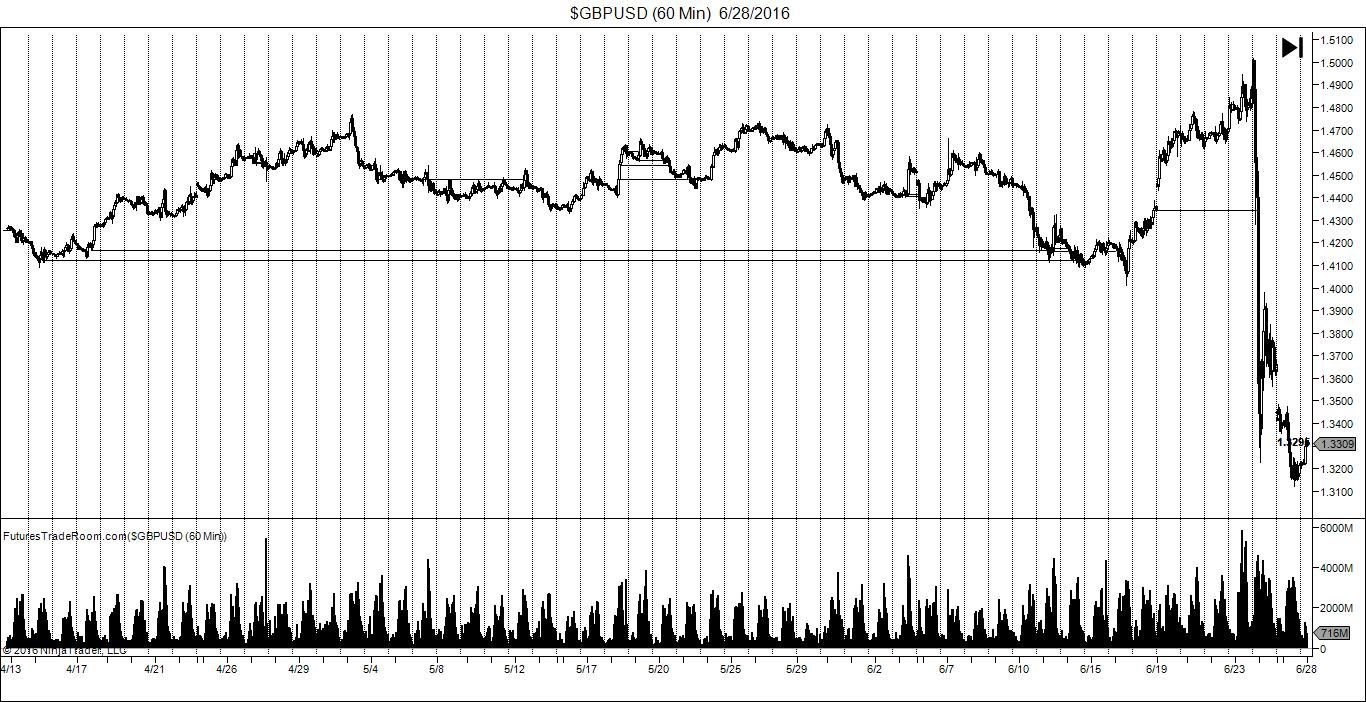 RISK DISCLOSURE:
Futures, Forex, Stock trading contains substantial risk and is not for every investor. An investor could potentially lose all or more than the initial investment. Risk capital is money that can be lost without jeopardizing ones financial security or life style. Only risk capital should be used for trading and only those with sufficient risk capital should consider trading. Past performance is not necessarily indicative of future results.
CFTC RULE 4.41 HYPOTHETICAL PERFORMANCE DISCLAIMER:
HYPOTHETICAL PERFORMANCE RESULTS HAVE MANY INHERENT
LIMITATIONS, SOME OF WHICH ARE DESCRIBED BELOW. NO REPRESENTATION
IS BEING MADE THAT ANY ACCOUNT WILL OR IS LIKELY TO ACHIEVE PROFITS
OR LOSSES SIMILAR TO THOSE SHOWN; IN FACT, THERE ARE FREQUENTLY
SHARP DIFFERENCES BETWEEN HYPOTHETICAL PERFORMANCE RESULTS
AND THE ACTUAL RESULTS SUBSEQUENTLY ACHIEVED BY ANY PARTICULAR
TRADING PROGRAM. ONE OF THE LIMITATIONS OF HYPOTHETICAL
PERFORMANCE RESULTS IS THAT THEY ARE GENERALLY PREPARED WITH
THE BENEFIT OF HINDSIGHT. IN ADDITION, HYPOTHETICAL TRADING DOES
NOT INVOLVE FINANCIAL RISK, AND NO HYPOTHETICAL TRADING RECORD
CAN COMPLETELY ACCOUNT FOR THE IMPACT OF FINANCIAL RISK OF ACTUAL
TRADING. FOR EXAMPLE, THE ABILITY TO WITHSTAND LOSSES OR TO ADHERE
TO A PARTICULAR TRADING PROGRAM IN SPITE OF TRADING LOSSES ARE
MATERIAL POINTS WHICH CAN ALSO ADVERSELY AFFECT ACTUAL TRADING
RESULTS. THERE ARE NUMEROUS OTHER FACTORS RELATED TO THE
MARKETS IN GENERAL OR TO THE IMPLEMENTATION OF ANY SPECIFIC
TRADING PROGRAM WHICH CANNOT BE FULLY ACCOUNTED FOR IN THE
PREPARATION OF HYPOTHETICAL PERFORMANCE RESULTS AND ALL WHICH
CAN ADVERSELY AFFECT TRADING RESULTS.
Installation, Purchasing, Refunds, Compete Clause:
The Price Magnet Indicator was created for use with the Ninjatrader 7 Platform.
Installation:
Download the .zip files (do not unzip)
Start NT7
The indicator contains 2 .zip files, import them both via the Ninjascript option.
File > Utilities > Import Ninjascript
Open a chart and right click to open your indicators > Select the two FTRPriceMagnet Indicators.
Lifetime Lease Agreement and Do Not Compete Clause:
Futures Trade Room (Bruce Levy) owns the full rights to The Price Magnet Trading System. As part of the personal lifetime license we encourage unlimited use of the product for the advancement of your personal trading.
However, we do reserve the right to disable the price magnet indicator at any time (and without refund) if we believe you are violating the terms and conditions of the lifetime personal user agreement.
The Price Magnet system is currently available only for personal use. You may not publicly share charts of the price magnet indicator as part of any commercial service.
Due to the proprietary nature of the price levels you may not create your own trade room or live screenshare that displays the price magnet indicator so that members can trade the levels.
You may not distribute the price magnet price levels.
By purchasing you agree not to compete with FuturesTradeRoom.com, or
Bruce Levy by utilizing the Price Magnet system as a marketing tool.
To reiterate the Price Magnet system is available for personal use and not for commercial applications. If you wish to engage in commercial activity please contact us to discuss opportunities.
Refunds:
Due to the fact that you a receiving a digital download product we do not offer refunds.
Please understand this before you commit to making payment.
We do offer generous trial periods for customers considering purchasing the product